I spent some of this week showing the film Junior as part of the Year 10 Medical Ethics project.
If you haven't watched it, it's a must-see. Arnold Schwarzenegger plays the world's first pregnant man, twenty years before the strange case of Thomas Beattie lest we forget, and although it's not the best film in the world it raises a lot of questions for my students about the morals of what Arnie & Danny Devito's characters do and even more pertinently, what would happen if men got pregnant.
It got me thinking too, firstly of the past, because fourteen years ago, I was producing screen prints based on the famous Saatchi poster: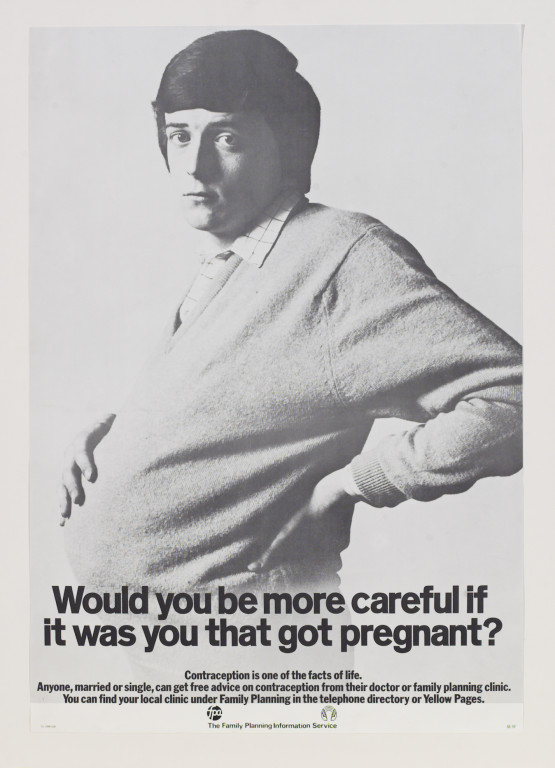 But also of the present: as this weekend, like Alex in Junior, I was both Mama and Papa.
Mrs G enjoying a well deserved weekend away with the girls, I was in sole position of Bets and we enjoyed ourselves. I decided to keep a diary of the twenty odd hours to document for the wife to see what went on and for B to read in the future.
SATURDAY
648 We get up and have a play, I watch some football highlights from the week and then Sooty.
c.900 We have a go in the Tigger bouncer, then get hooked on the film The Life of Pi which is pretty breathtaking Saturday morning viewing. Browsing the internet we are overjoyed that Morrissey has announced a new album to be released in the summer, presumably he has been inspired by my dressing up as him for World Book Day in school this week?
How lucky I felt, arriving at school as my hero, daffodils in pocket. I spent the day explaining who he was, granted, but this meant showing vintage TOTP performances at least, and despite the rule of foctional characters only, I argued that this act was in his contrary nature, plus he wrote as if an alter ego.
938 Messy nappy
1020 I read an email off a friend to whose e-zine I contribute. His sage advice was perhaps the highlight of the weekend. It certainly helped me through the difficult moments.
1023 Whilst reading said e-zine, Betsy is sick.
1024 She then wees on her mat.
1043 Betsy scratches my gum.
1113 After seeing Mrs G off at the station, we see Jamie Carragher drive past and get a bad feeling about the day's football.
1245 FA Cup quarter final kicks off, B is in high spirits, I am nervous. She is startled when Lukaku equalises but happy.
1334 Falls asleep, which is a good job as whilst she is down I am hanging the washing out and see an old man, stereotypical hobo with white beard long coat and carrier bag, has a wee in the park we look out on too.
c.1400 Bets wakes up crying just after Arteta scores, almost as if she knew…
1508 Everton are out of the FA Cup, embarrassed again at the quarter final stage. It being Crufts weekend, this image sums it up nicely.
Disappointed but not surprised by the result, we get the train to the place that always makes me feel better, Waitrose in Formby. I spent a silly amount on my favourite Pastis, and 20p on a second hand glass in a charity shop that Mrs G hasn't noticed yet, buy Bets a new giraffe, we see a purple car.
1834 Wee on the mat again whilst dad reads recipes for baby food by Alain Ducasse. We are so close to crawling, though.
Saturday evening: More frustrating football as Barca lose. Not a great bath time but she settles nicely and I am able to finally get around to watching the Alan Partridge movie, he was a huge hero of mine (despite being a fictional character) and thoroughly enjoy it, as I do the Bayern Munich game.
SUNDAY
702 Dad wakes up
718 Hears crying from the bedroom
720 Sooty again! A vintage episode all about cleaning.
808 An enjoyable breakfast of half a Farley's rusk, my own childhood favourite, whilst watching the recent Culture Show documentary on Matisse and his cut outs. I love that idea of him sat in bed with a pair of small scissors cutting out portraits of the doctor Picasso had sent for him.
1010 we go out to enjoy the sunshine, a long walk along the front, avoiding dangerous dogs at the coffee bar and contemplating what I will submit about #Northernness to Hannah festival.
the first is a project I did three years ago about St Swithins Day, it's on my blog at http://www.jonathangreenbank.com/archives/date/2011/07 and involved me collecting the rain that fell outside my flat during the forty days and nights afterwards in forty plastic test tubes plus a load of photos of ice cream vans. So that might depend on space.
A work in progress is researching the story of John wilkinson from Morecambe who was given an ASBO and threatened with prison for feeding pigeons. I was following his story http://www.thevisitor.co.uk/news/asbo-for-pigeon-man-1-5236412 through my parents sending me the local paper and I think it sums up nicely Northernness because of his generosity and pigeon fancying, this would be a letter maybe some drawings etc and the news clippings.
The other suggestion is some small portraits of the cocklers who died in Morecambe Bay, it's near where I am from originally and obviously this year is their ten year anniversary.
By strange and a bit dark coincidence, I go home for a lunch of Morecambe Bay Potted Shrimps.
1308 Mrs G arrives back home. Daddy's little girl survived her ordeal: I am proud of myself and went back to not being a seahorse.
I really did have the time of my life and can't complain, I loved every minute. I know other people might not get the opportunity or others have no choice so I really do treasure every moment. Having the time to plan work as well was an added bonus, we shall see how that develops.
Now I know what you are all thinking: what did the e-mail say that guided you through the weekend? I met the guy who wrote it, through Everton, and I suppose it could refer to my support, though it's never easy.
But what he said about looking after Junior for the weekend really makes sense, and came true.
It's a doddle. All you need to do is love them, everything else follows.